Your Source for Blinds, Shutters & Shades in the huntington beach Area
When it comes to getting the best possible service for your blinds, shutters, and shades in the Huntington Beach area, the name to count on is The Blind Guy. We have been providing superior service for both residential and commercial clients since first starting the business in 2010. The window treatments that you select should be something that you can live with, and love, for years to come.
There are too many glorified window blind salespeople out there, trying to pass themselves off as knowledgeable window coverings industry experts. However, if you want quality results, it is important to partner with our team of pros to get expert input and workmanship. Other companies are more concerned with trying to aggressively push warehouse overstock on you – quantity and not quality.
Our primary focus is on helping you get the best quality results from our highly trained and skilled staff. We may sell window treatments but our number one focus is on providing you with the information and expert installation that makes all the difference. We take this line of work seriously and that is evident from the customer approval rating, and impeccable reputation we have managed to earn as a local Huntington Beach window treatment company.
There are plenty of choices available to you, when it comes to making your choices for window coverings. Some homeowners prefer a uniform look throughout the entire home, while others like each room to have its own distinct look. Either way, you should be able to be beyond satisfied with the overall project once it has been completed.
An important thing to keep in mind is that your window treatments are something that impacts both the interior and exterior of your home. They effect both the interior design aesthetics and the exterior curb appeal. So make it a point to choose accordingly, especially by starting by scheduling your free in-home consultation.
You may already know exactly what you want for your window dressings, or may need a little guidance. The good news is that we have experience working with both kinds of clients and are dedicated to providing exceptional final results. We promise that you will be glad you made the choice to work with The Blind Guy and our entire team of experts here.
Leave it to our Huntington Beach blinds, shutters and shades experts, we will help ensure that you have a firm understanding of the options that are available to you. From there, we will make sure you make choices that will have long term potential and not just a passing fashion fad. Finally, we will install your window treatments with the best skills and dexterity.
Shutters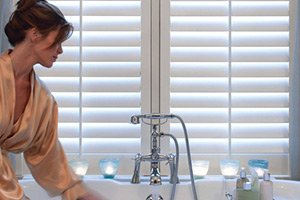 Among your many options for window treatments is a tried and true classic – the shutter. Shutters can be installed to either the interior or exterior of your window. Traditionally, they were used on the outside, meant to protect the glass when closed.
However, these days, interior use is much more common. Either way, what you get is a stunning appearance and plenty of essential benefits. For one thing, quality shutters help increase the property value of your home, making them a wise investment and not a frivolous expense.
This type of window treatment also provides an excellent secondary level of additional insulation. The benefit of this is that it will make your home more energy-efficient. So what does that mean for your home?
For one thing, enhanced energy-efficiency means lower operational costs each month. Another bonus is that improved energy-efficiency also makes your household greener, or more Eco-friendly. Yet most people still simply love shutters because of their classic profile that pairs well with just about any design plan.
The bottom line is that you will not be disappointed, when it comes to getting shutters installed in your residential or commercial structure. Our Huntington Beach shutter company's experts will help to make certain that you make choices you can feel good about, for the long haul. Your window treatments should not be something that you have to plan to replace, any time soon.
Blinds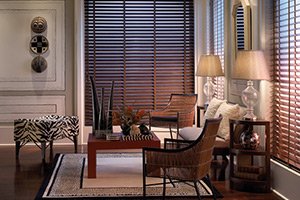 Of course, another classic option for window coverage is the window blinds. This is the ideal pairing for a large structure or set up with a lot of windows. This is why you see window blinds still so commonly used for office buildings.
They come available in a large number of styles, colors, patterns and even materials. We offer the finest in wood blinds, faux wood blinds, aluminum and mini blinds. However, forget everything that you think you knew about window blinds, because we will educate you on the modern selections that exist.
Window blinds have come a long way over the years and decades. The look and frailty that they were once stereotyped for has completely been altered. Now, you get modern looking choices with a much more durable result.
Custom window treatments like this will help to deliver the final results you want, need and deserve, for your home or your business. Call us today to set up your free, in-house consultation and let us show you the exciting options that you have available to you. You will quickly learn firsthand, how we have earned the flawless name we have for ourselves.
Make wise choices so that you never have to settle for less than you really want for your home or business. These are your window dressings and this is your financial investment, so make sure that you will be happy with the results that you get, for years to come. Our Huntington Beach window blinds company promises to deliver nothing short of total customer satisfaction, when it comes to your custom blinds.
Shades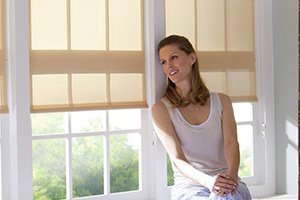 For many consumers, the only obvious choice for window treatments is the shade. As with many other window dressings, shades have come a long way in recent years. Although still economical and durable, shades are now more attractive than ever.
There are so many attractive choices available, both visually and financially. Shades are often the most user-friendly option for anyone looking for filtered natural light, as opposed to total privacy. There are options for shades available that provide more privacy, but then you lose the diffused natural sunlight that people often want when they opt for shades in the Huntington Beach area.
Window shades also help to reduce glare and heat index, as well as lower the likelihood of your furniture or flooring becoming damaged by harmful UV rays. Not to mention, this can also help protect your skin and health, as well as provide safe protection for the rest of your family. Protect your entire household, and the people and property inside, with quality window shades.
This is also a vital step in reducing your energy consumption. You cooling bills can skyrocket in the summer when natural sunlight heats up the interior of your home. This is because an overload of UV rays make your interior less energy-efficient.
Improving energy efficiency does more than just save you money on your monthly operational costs, although that is important too. A key to enhanced efficiency is that it also makes your home more environmentally responsible, which reduces your overall carbon footprint.
Draperies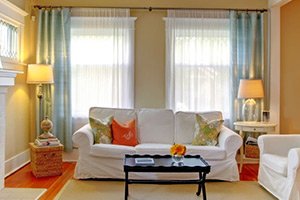 When it comes to draperies for Huntington Beach homes and businesses, you need a professional who offers more than just luxurious options for curtains. A key to long term success with your curtains is also having a professional who can provide you with a vast selection in drapery hardware, or alternate options like sliding panels. The only way to make good choices about your window treatments is to have a vast knowledge of the possible selections that you have available.
Making the best choices about your window treatments boils down to first knowing the options that you have. From there, it is about making sure that you team up with industry professionals who has your best interest in mind. That is why so many local home and business owners make the smart call to The Blind Man.
Draperies come in a wide assortment of fabrics, looks, colors, patterns and styles. Prioritizing your wants and needs is the key to success when selecting your draperies; some people prefer sheer while others want blackout curtains. Drapes can also be paired with another form of window treatment, in order to create a layered look.
This layered design may be about more than just appearances though. This option is an ideal one to take when you want a lighter or sheer curtain, and need a liner of sorts. This will enable you to enjoy both natural sunlight, as well as help you be able to secure your privacy.
Draperies can be both elegant or casual. They are a great way to dress up an informal room or add depth to an already elegant one. However, what matters most for your success is that you have true industry experts to work with, in order to achieve your desired results.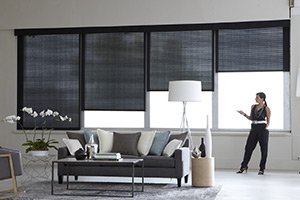 Motorization
Of course, it goes without saying that you cannot talk about modern day window treatments in California without touching upon the benefits of motorization. Current technology has made it possible for homeowners to adjust their lights from their smartphone, while away on vacation. Motorization offers this same level of cohesive convenience.
Motorization helps a homeowner while they are still at home, adjust all of their window treatments, with the touch of a single button. However, that same level of convenience is also available when away from the home. A simple app can give you access to controlling your window treatments, be it shades, blinds or draperies.
Another benefit of motorization is the eradication of the need for dangling cords, in order to operate blinds or curtains. This removes the possible threat of injury or strangulation, for small children and pets. It also enables homeowners to be able to give the appearance that they are home,therefore thwarting possible break-ins.
Motorization also will make it possible for you to transition your household to a more Eco-friendly one, simply by making alterations based on the time of day, season or even weather. Simply put, you and your household can expect great advantages by making the wise choice to opt for motorization. Let us help you understand the benefits, answer any questions you may have and implement this new system into your home or business.
Why Select The Blind Man Team?
The Blind Guy is the only name that you need to know, in order to get superior results for your window treatments – no matter what style you end up choosing. We have worked hard over the years to be able to go above and beyond the needs of our clients, in order to deliver 100% satisfaction, 100% of the time. We also make it a point to offer a wide variety of types of window covering solutions, including shades, shutters, draperies, blinds and more.
We separate ourselves from the other California window treatment companies out there that are simply focused on selling cheap merchandise. We will partner with you to devise a plan of action, to remedy your window dressing needs. Do not take chances or settle for less than the best, when it comes to the quality of workmanship and customer care that goes into your window treatment project.
The options that you select should be something that you can live with, and love, for a long time to come. Quality window treatments will survive the tests of time, including wear and tear, as well as surpassing fads and trends. Ultimately, we want to help you find a long term solution to your window covering needs.
The best thing that you can do is call us today to get started on your planning. We offer a free in-home consultation and work with both residential and commercial customers. The only thing we require of you is the determination to put the finishing touches on your windows, transforming your current house into the home of your dreams.
Our Huntington Beach Blinds, Shutters & Shades Company Offers:
Latest Articles
How Your Window Coverings Can Lower Your Cooling Costs


Your Huntington Beach area home would be incomplete without window coverings. They help to make your home look its best while also helping your home to enjoy the privacy you should expect from it. But aesthetics and protection are not the only quality that your window coverings can provide. For instance, another great feature your […]

Read More
Blinds: Are They Right for You? Check Out Their Pros and Cons


A beautiful option for any home, blinds might just be the perfect window-covering option if you find yourself in the market for one. However, despite their beauty, blinds could also prove to be a bad option for you — depending on how you view their drawbacks with regard to their draws. If you are unsure […]

Read More
If you are looking for blinds, shutters and shades expert in the Hunting Beach area then please call The Blind Guy at 714-600-4239 or complete our online request form.