Loal Costa Mesa Blinds, Shutters & Window Treatments Experts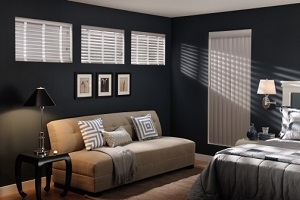 One thing is very important, when it comes to window blinds in Costa Mesa, CA, and that is finding the right pro to work with. While there are plenty of window blinds companies out there, few are as knowledgeable as The Blind Guy. Instead, what you end up settling for is a pushy salesperson, with no former training, other than to try to persuade you to purchase remaining overstock, left in their warehouse.
Simply put, we are genuine window treatment experts, not just salespeople. We are able to offer advice and feedback so you make good choices, as well as provide superior quality installation service. Make it a point to give us a call today, in order to get set up for long term success, with whichever style of window treatment you choose for your home or business.
Shutters for Your Residential or Commercial Space
Whether you are looking for blinds, shutters or shades, The Blind Guy can help. But if you are considering shutters for your windows, you can rest assured you will be happy with your choice. However, if you are not yet familiar with shutters, other than how good looking they are, you owe it to yourself to learn more about the benefits.
Quality window shutters will help to increase the property value of your overall home. So, you can feel confident that you are making a wise investment and not just making a lavish purchase.
You have a number of options to choose from. For instance, we offer both Polycore and plantation shutters. So you have an alternative to real wood, as well as one of the most sought-after styles, available to you.
They pair well with both your interior design aesthetics and your exterior curb appeal. Many people forget that the window treatment that they choose impacts both the interior design and exterior appearance.
Costa Mesa Window Treatment Experts
The Blind Guy is ready, willing and more than capable of providing the best in a variety of window treatments. Picking just the right option for your window is the key to transitioning your current house into the home of your dreams. Don't take chances when it comes to making this sort of selection.
Latest Articles
How Your Window Coverings Can Lower Your Cooling Costs


Your Huntington Beach area home would be incomplete without window coverings. They help to make your home look its best while also helping your home to enjoy the privacy you should expect from it. But aesthetics and protection are not the only quality that your window coverings can provide. For instance, another great feature your […]

Read More
Blinds: Are They Right for You? Check Out Their Pros and Cons


A beautiful option for any home, blinds might just be the perfect window-covering option if you find yourself in the market for one. However, despite their beauty, blinds could also prove to be a bad option for you — depending on how you view their drawbacks with regard to their draws. If you are unsure […]

Read More
If you are looking for blinds, shades or shutters in Costa Mesa, CA then please call The Blind Guy at 714-600-4239 or complete our online request form.