Aluminum Blinds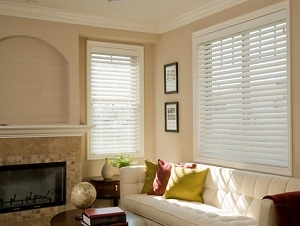 One of the important elements in making choices about your window treatments is knowing the variety of options that you have available. By partnering with the pros here at The Blind Guy, you can get all the information that you need, in order to make the right choice for your home or business. It all begins with your free in-home consultation and ends with you being beyond satisfied with the final results that you get.
While there are many options available, for some Huntington Beach area settings, aluminum blinds are the ideal match. Of course, by working with reputable industry professionals, you can feel good about the information and the final results that you will be able to get from us. Empower yourself by being an informed consumer and a savvy homeowner, before choosing your window blinds in the Huntington Beach area.
Best Aluminum Blind Sales & Installation in the Huntington Beach Area
One of the most common questions that we get about aluminum blinds is what the advantages are. So we would like to share some of that information with you now:
For one thing, these metal blinds are among the most cost-effective options possible. So this is a great way to stretch your budget dollars. This is also why they are so commonly used in places like offices where there are a large number of windows to cover.
Contrary to popular misconception, aluminum blinds have come a long way in recent years. That means they are even better looking and come in a wider variety of looks and styles.
Also, contrary to popular belief, aluminum blinds are actually quite durable. So you get good value. This means quality products for a reasonable price.
Superior Service for Your Aluminum Blinds
The Blind Guy is the local leading window blinds company in the Huntington Beach area for all of your window treatment needs, including aluminum blinds. Our job is to provide you with window dressings but our goal is to ensure that you are 100% satisfied with the final results. You should be able to have window treatments that you can live with, and love, for years to come.
For quality aluminum blinds in the Huntington Beach area, please call The Blind Guy at 714-600-4239 or complete our online request form.
Latest Articles
How Your Window Coverings Can Lower Your Cooling Costs


Your Huntington Beach area home would be incomplete without window coverings. They help to make your home look its best while also helping your home to enjoy the privacy you should expect from it. But aesthetics and protection are not the only quality that your window coverings can provide. For instance, another great feature your […]

Read More
Blinds: Are They Right for You? Check Out Their Pros and Cons


A beautiful option for any home, blinds might just be the perfect window-covering option if you find yourself in the market for one. However, despite their beauty, blinds could also prove to be a bad option for you — depending on how you view their drawbacks with regard to their draws. If you are unsure […]

Read More