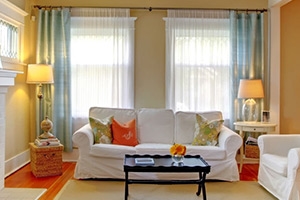 Custom Draperies & Quality Hardware
Draperies are a dramatic, luxurious and beautiful way to enhance the interior design visual aesthetics of your home, or even your business. However, it is of the utmost importance that you work with a window treatment professional with a skill and en eye for that works, and what doesn't. Savvy locals know that The Blind Guy is just the crew to get the job done. From blinds, shutters and shades to custom drapes, we're the company you can count on for quality results.
We have worked with countless satisfied clients over the years, helping bring to life their vision for the finest in draperies in the Huntington Beach area. In fact, even if you lack the vision and are not sure how to put this style of window treatment to good use, we can help create the look for you. The bottom line is that you will get the knowledgeable guidance you need along the way, and the final results you have always wanted.
Drapery Hardware
Many clients are taken aback by the fact that so much effort has to go into even selecting the right drapery hardware. Think about the fact that your window treatments are the finishing touches on your house; this is what helps make your house truly feel like the home of your dreams. So, it is vital to think about and take care of every last detail.
Selecting drapery hardware is how you personalize your window dressings and make them truly one-of-a-kind. We will help you understand the options you have and help you make good choices. We look forward to working with you for every step along the way and every finishing touch for your draperies.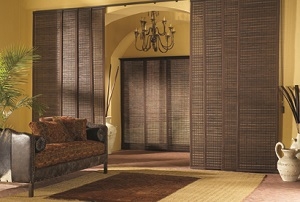 Sliding Panels
Sliding panels are fast becoming the new must-have, and for plenty of good reasons. They are the ideal solution for oversized areas of glass, or even to use as room dividers.
Making the smart choice to partner with The Blind Guy will help ensure that you get the best in quality service work, products and final results. Make it a point to give us a call today, in order to get the best possible finished outcome for your draperies, or any of your window treatments.
For custom draperies in the Huntington Beach area, please call The Blind Guy at 714-600-4239 or complete our online request form.
Latest Articles
How Your Window Coverings Can Lower Your Cooling Costs


Your Huntington Beach area home would be incomplete without window coverings. They help to make your home look its best while also helping your home to enjoy the privacy you should expect from it. But aesthetics and protection are not the only quality that your window coverings can provide. For instance, another great feature your […]

Read More
Blinds: Are They Right for You? Check Out Their Pros and Cons


A beautiful option for any home, blinds might just be the perfect window-covering option if you find yourself in the market for one. However, despite their beauty, blinds could also prove to be a bad option for you — depending on how you view their drawbacks with regard to their draws. If you are unsure […]

Read More