Sleek & Modern Sliding Panels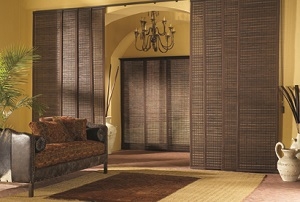 Sliding panels are fast becoming the new norm for window treatments in the Huntington Beach area, especially oversized windows. They are ideal for areas like sliding glass doors and even make the perfect room divider. Yet, it is important not to get ahead of yourself; the first step is setting up your free in-house consultation with The Blind Guy.
Since 2010, we have been providing service excellence and a quality selection of draperies, blinds, shutters and shades for all of our customers, be it residential or commercial. In recent years, the sliding panel has seen a serious surge in popularity, and that's not something that's bound to go away anytime soon. In fact, market predictions only show the likelihood that the trend will continue to increase, as it becomes apparent how functional these panels are.
Best Sliding Panel Sales & Installation
If you are not yet familiar with sliding panels in the Huntington Beach area, they are exactly as the name would suggest – oversized panels that slide across a track. This can be used to cover picture windows, sliding glass doors or to divide an interior space. Some benefits include:
Trying to cover large panes of glass can end up becoming quite costly or, even worse, homeowners settle for partial coverage. They truly are a window covering solution.
You have options for the amount of permeability your panels have. In most cases, sliding panels are light enough to allow a fair amount of diffused sun through. However, you can opt for darker panels that will help block out more light.
There is hardly any easier an operation for window treatments, then the sliding panels. In fact, you even have the option to stack panels out of the way for times when you want an unobstructed view or to open up a room more.
Superior Service for Sliding Panels in the Huntington Beach Area
Let our window treatments pros at The Blind Guy provide you with the service you need, including gaining important information. Only you can determine whether or not sliding panels are right for you, but we can help arm you with the information you need to make the best decision. Contact us today to find out more.
For quality sliding panels in the Huntington Beach area, please call The Blind Guy at 714-600-4239 or complete our online request form.
Latest Articles
How Your Window Coverings Can Lower Your Cooling Costs


Your Huntington Beach area home would be incomplete without window coverings. They help to make your home look its best while also helping your home to enjoy the privacy you should expect from it. But aesthetics and protection are not the only quality that your window coverings can provide. For instance, another great feature your […]

Read More
Blinds: Are They Right for You? Check Out Their Pros and Cons


A beautiful option for any home, blinds might just be the perfect window-covering option if you find yourself in the market for one. However, despite their beauty, blinds could also prove to be a bad option for you — depending on how you view their drawbacks with regard to their draws. If you are unsure […]

Read More