Loal Seal Beach Blinds, Shutters & Window Treatments Experts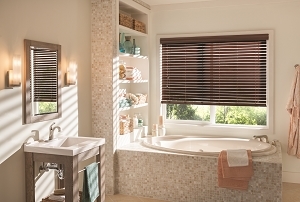 One of the first questions our clients ask us is how they are going to pick out the perfect window blinds in Seal Beach, CA. We tell them, you already made the most important first step decision – choosing your Seal Beach window treatment company. Local home and business owners know that the name to call on is The Blind Guy. We take great pride in the work that we do, as well as take this line of work seriously.
Too many so-called window treatment pros out there are nothing more than aggressive Seal Beach blinds and shutters salespeople. They have no real knowledge of the field, only how to push their warehouse overstock on to unsuspecting customers.
Shutters for Your Residential or Commercial Space
One of the most popular styles of window dressings is the shutter. And for plenty of good reasons. If you are considering shutters for your windows, here are some points to ponder:
One reason shutters are in such high demand in Seal Beach, CA is due to their attractive profile. This type of window covering pairs well with just about any interior design aesthetic.
They offer additional insulation. When closed, shutters offer another layer of insulation, which helps make your home more energy efficient. Better energy-efficiency means lower monthly utility bills and a more Eco-friendly household.
No other window treatment offers the same amount of privacy or light control. They are quite flexible in this department; you can have them closed or open completely, or adjust the slats and louvers for versatility in privacy and light input.
The bottom line is that if you opt to implement shutters into your interior design plan, you are going to be beyond satisfied with the final results.
Seal Beach Window Treatment Experts
The Blind Guy is ready, willing and beyond capable of providing you with optimal results. Choosing the right window treatment can feel like a daunting task, unless you have the right expert to work with, in order to get the job done. Whether you know exactly the type of window treatment you want, or could use a little advice, you can count on the blinds, shutters and shades experts at The Blind Guy. Don't settle for less than the best, when it comes to your window treatments in Seal Beach, CA.
Latest Articles
How Your Window Coverings Can Lower Your Cooling Costs


Your Huntington Beach area home would be incomplete without window coverings. They help to make your home look its best while also helping your home to enjoy the privacy you should expect from it. But aesthetics and protection are not the only quality that your window coverings can provide. For instance, another great feature your […]

Read More
Blinds: Are They Right for You? Check Out Their Pros and Cons


A beautiful option for any home, blinds might just be the perfect window-covering option if you find yourself in the market for one. However, despite their beauty, blinds could also prove to be a bad option for you — depending on how you view their drawbacks with regard to their draws. If you are unsure […]

Read More
If you are looking for blinds, shades or shutters in Seal Beach, CA then please call The Blind Guy at 714-600-4239 or complete our online request form.