Loal Corona Del Mar Blinds, Shutters & Window Treatments Experts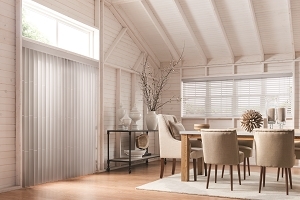 Here at The Blind Guy, we have worked hard to earn the flawless reputation that we have as a local Corona Del Mar blinds and shutters company. Yet, it all boils down to simply doing whatever it takes to provide superior customer care and final results for our clients. If you are thinking about adding window blinds to your home or business, let us help you take on the project for you.
Window blinds are a popular choice for both residential and commercial buildings, and for a number of good reasons. One big deciding factor is that this style of window covering is affordable, especially when you need to take care of a large number of windows. If you have questions, or know that you are ready to get started on your window treatment project, give our team of experts a call – today!
Shutters for Your Residential or Commercial Space
Of course, for many of our customers, shutters just can't be beat. You'll get no argument from us. We realize there are plenty of advantages to choosing this style of window dressing. Some examples of this include:
One reason people tend to prefer shutters is that they offer an additional layer of insulation. That means, when closed, this will help to make your home or business more energy-efficient. What are the benefits of this? For one thing, it means reduced operational costs each month. Plus, it makes your building more environmentally responsible.
When it comes to privacy and light control, the capabilities of shutters is unsurpassed. There is no better window treatment around, that can offer the same level of flexibility in this department.
Make the smart choice to work with us, so you can find out more about what makes shutters such a popular choice for Corona Del Mar homes and businesses.
Whether you are looking for blinds, shutters or shades, The Blind Guy can help.
Corona Del Mar Window Treatment Experts
Let The Blind Guy address your need for window treatments, so you can be certain that you get the results that you hoped for. Don't settle for less than the best. Let our team of experts help you create a look that you will love, for years to come.
Latest Articles
How Your Window Coverings Can Lower Your Cooling Costs


Your Huntington Beach area home would be incomplete without window coverings. They help to make your home look its best while also helping your home to enjoy the privacy you should expect from it. But aesthetics and protection are not the only quality that your window coverings can provide. For instance, another great feature your […]

Read More
Blinds: Are They Right for You? Check Out Their Pros and Cons


A beautiful option for any home, blinds might just be the perfect window-covering option if you find yourself in the market for one. However, despite their beauty, blinds could also prove to be a bad option for you — depending on how you view their drawbacks with regard to their draws. If you are unsure […]

Read More
If you are looking for blinds, shades or shutters in Corona Del Mar, CA then please call The Blind Guy at 714-600-4239 or complete our online request form.