Top Quality Real Wood Blinds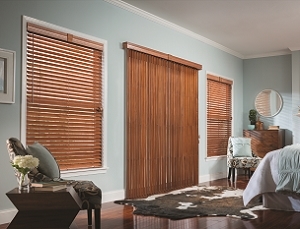 For some consumers, nothing beats the look of real wood blinds in the Huntington Beach area. While there are certainly more advantages to opting for real wood, as opposed to wood alternatives, other than the appearance, this is a key selling point. The bottom line is that you are going to love the final results that you get when you decide to go with wood, and The Blind Guy can guarantee it.
Too many homeowners erroneously believe that they have to choose between quality products or affordable service when it comes to shopping for window blinds in the Huntington Beach area. So you can feel good knowing that you are going to get the best of both worlds by making the wise choice to work with us. We take this line of work seriously and that is evident from the results that we are able to get for our clients, each and every time.
Best Wood Blind Sales & Installation in the Huntington Beach Area
If you are still trying to make the choice between wood blinds and some other type of material, here are a few key points about the benefits of real wood blinds in the Huntington Beach area:
Simply put, nothing beats the warm, rich and luxurious look of real wood.
You have a vast array of wood types, colors and finishes to select from. Since wood grain is unique to each piece of wood, you truly will have one of a kind window blinds.
Real wood is lighter than the faux wood counterpart. This makes real wood the best choice for larger or oversized window treatments.
When well maintained, real wood can outlast wood alternatives.
Of course, it only makes sense that real wood adds more value to your home. That makes them a wise investment and not just a frivolous expense on window treatments in the Huntington Beach area.
Superior Service for Your Wood Blinds
Let our experts here at The Blind Guy answer any questions that you may have and help you get your window treatments in place. The team at our window blinds company knows that you will be very happy with your decision to opt for wood blinds. It is as important to us as it is to you to be able to make certain that you love the final results you get for your window coverings.
For quality wood blinds in the Huntington Beach area, please call The Blind Guy at 714-600-4239 or complete our online request form.
Latest Articles
How Your Window Coverings Can Lower Your Cooling Costs


Your Huntington Beach area home would be incomplete without window coverings. They help to make your home look its best while also helping your home to enjoy the privacy you should expect from it. But aesthetics and protection are not the only quality that your window coverings can provide. For instance, another great feature your […]

Read More
Blinds: Are They Right for You? Check Out Their Pros and Cons


A beautiful option for any home, blinds might just be the perfect window-covering option if you find yourself in the market for one. However, despite their beauty, blinds could also prove to be a bad option for you — depending on how you view their drawbacks with regard to their draws. If you are unsure […]

Read More