The Local Source for Polycore Shutters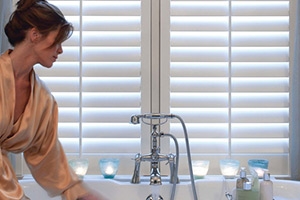 Deciding to dress your windows with shutters is a wise move to make. An even better decision is to opt for the quality look and performance you get by using polycore shutters in the Huntington Beach area. Of course, when you care enough to get the very best, the name that you should rely on is The Blind Guy.
Don't let the name fool you, we do plenty more than just blinds, including shutters and shades. In fact, we are the local leading Huntington Beach service provider for just about all types of window treatments. Now, we look forward to working with you and ensuring that you get the shutters you want and the final outcome that you deserve.
Best Polycore Shutter Sales & Installation in Huntington Beach
If you are considering going with polycore shutters in the Huntington Beach area, it means you value quality and durability. What you need to be made aware of is what some of the benefits are of this type of window covering:
Polycore shutters will never need to be painted. The look you get on day one is the same look you will have until you replace them. All you have to do is invest effort into cleaning and maintaining them.
Unlike wood shutters, this type of synthetic material does not absorb moisture. This helps eliminate the chances of swelling, developing mildew or mold, and rotting. Not only will your shutters look better, they will last longer and remain in better condition over the course of time.
They are relatively easy to install. This means you get your window dressings installed quickly, as well as don't pay too much to get the job done.
The bottom line is that opting for polycore, when it comes to your shutters, is a wise choice to make. And our team will help you, from guiding you through selecting the perfect polycore shutters for your property to providing top quality shutter installation services.
Superior Service for Your Polycore Shutters
Set yourself up for long term success by making the smart choice to partner with your local Huntington Beach shutter company, The Blind Guy, for your window treatments. We take great pride in the work that we do which is why we get the best looking final results, as well as deliver topnotch results. If you think Polycore shutters would be right for you, let us help you pick out the absolute perfect ones.
For quality polycore shutters in the Huntington Beach area, please call The Blind Guy at 714-600-4239 or complete our online request form.
Latest Articles
How Your Window Coverings Can Lower Your Cooling Costs


Your Huntington Beach area home would be incomplete without window coverings. They help to make your home look its best while also helping your home to enjoy the privacy you should expect from it. But aesthetics and protection are not the only quality that your window coverings can provide. For instance, another great feature your […]

Read More
Blinds: Are They Right for You? Check Out Their Pros and Cons


A beautiful option for any home, blinds might just be the perfect window-covering option if you find yourself in the market for one. However, despite their beauty, blinds could also prove to be a bad option for you — depending on how you view their drawbacks with regard to their draws. If you are unsure […]

Read More