Quality Faux Wood Blinds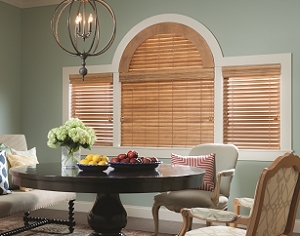 There are a number of reasons why you may want to choose faux wood blinds over the real thing here in the Huntington Beach area. What matters the most is that you get the professional input you need from an industry expert, in order to make the right decision. That is why savvy locals make the wise choice to partner with The Blind Guy, in order to get the best quality service and results for window blinds in the Huntington Beach area.
At our window blinds company we genuinely care about the customers we work with and go above and beyond to ensure that they get the superior results that they have come to expect from us. The process starts with a free in-home consultation, providing you the opportunity to see what your options would look like, in your very own home. Plus, you will be able to ask any questions that you may have in order to make the best possible choices.
Best Faux Wood Blind Sales & Installation
If you are on the fence about whether or not faux wood is right for you, here are some points to ponder:
Obviously, the biggest benefit is that faux wood is a cheaper alternative to real wood. This is the ideal way to make your project more cost-effective. While the look is almost identical to real wood, you will be saving money by creating the same visual aesthetics.
Unlike the real thing, faux wood is not susceptible to damage from moisture. Wood tends to sustain damage from exposure to moisture over time, including swelling or warping from expansion.
While you no longer get wood grain unique to each piece of wood, you can enjoy a variety of looks and colors. So you still have a variety of visual styles to choose from.
Superior Service for Your Faux Wood Blinds
At The Blind Guy, we take great pride in the work that we do and that is evident from the results that we are able to achieve for every customer we work with. You are going to love the final look that we are able to create for you, whether you ultimately decide to opt for faux wood or the real thing.
For quality faux wood blinds in the Huntington Beach area, please call The Blind Guy at 714-600-4239 or complete our online request form.
Latest Articles
How Your Window Coverings Can Lower Your Cooling Costs


Your Huntington Beach area home would be incomplete without window coverings. They help to make your home look its best while also helping your home to enjoy the privacy you should expect from it. But aesthetics and protection are not the only quality that your window coverings can provide. For instance, another great feature your […]

Read More
Blinds: Are They Right for You? Check Out Their Pros and Cons


A beautiful option for any home, blinds might just be the perfect window-covering option if you find yourself in the market for one. However, despite their beauty, blinds could also prove to be a bad option for you — depending on how you view their drawbacks with regard to their draws. If you are unsure […]

Read More