Interior Solar Screens (Fixed)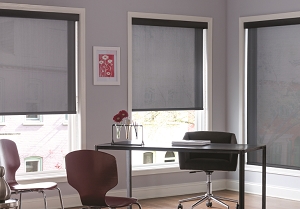 Solar shades may not be new, but the popularity in interior solar screens in the Huntington Beach area is. More and more home and business owners are making the wise choice to protect their interior with fixed solar screens. In order to have the best possible results, smart local consumers are also making it a point to team up with the dedicated California window treatments industry experts here at The Blind Guy.
It all begins with our free, no-pressure, in-home consultation. This gives us the ability to show you the options that you have and help you gain a better understanding of all the choices you have available (such as blinds, shutters and shades) when it comes to your window treatments. However, interior solar screens are a unique option, so it is important to gain a better understanding of what it is, how it works and, most importantly, how you will benefit.
Best Interior Solar Screen Sales & Installation
Even if you are already familiar with the fixed interior solar screen, here are a few things that you should keep in mind:
Want to enjoy an unobstructed view but cut down on the glare? Having an interior screen is sort of like putting on sunglasses – same gorgeous view without the need to squint, especially inside your own home.
Having a quality solar screen can change your energy efficiency a great deal. In fact, this can reduce energy operational costs by up to 15%. Not only that but a more energy-efficient home means a more Eco-friendly one, as well.
The right style of screen can even help offer improved privacy, as well. Cut down on the glare, reduce the heat index and gain more privacy.
Superior Service for Interior Solar Screens in the Huntington Beach Area
The Blind Guy can assist you in making essential choices about your window treatments, including fixed interior solar screens. It is important to us to be certain that each of our clients is satisfied with the final results. Our ultimate goal is to work with you to make the perfect choices so you can better enjoy the place you call home.
For quality interior solar screens in the Huntington Beach area, please call The Blind Guy at 714-600-4239 or complete our online request form.
Latest Articles
How Your Window Coverings Can Lower Your Cooling Costs


Your Huntington Beach area home would be incomplete without window coverings. They help to make your home look its best while also helping your home to enjoy the privacy you should expect from it. But aesthetics and protection are not the only quality that your window coverings can provide. For instance, another great feature your […]

Read More
Blinds: Are They Right for You? Check Out Their Pros and Cons


A beautiful option for any home, blinds might just be the perfect window-covering option if you find yourself in the market for one. However, despite their beauty, blinds could also prove to be a bad option for you — depending on how you view their drawbacks with regard to their draws. If you are unsure […]

Read More