A Touch of Natural Warmth with Woven Wood Shades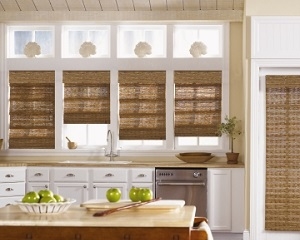 One of the ways in which you will be able to decide if woven wood shades are right for you is by working with the right industry pro to get the information that you need. Since 2010, The Blind Guy has been the local leading service provider for this type of work, and it all begins with your free in-home consultation. Too often, customers are tricked into working with an aggressive window blind salesperson pretending to be a knowledgeable industry expert in the Huntington Beach area.
What's the difference, you may wonder? The last thing that you need is to work with a salesperson considered with unloading warehouse overstock on you, as opposed to actually helping you realize which window covering would work best for you. We are knowledgeable and customer-oriented, as opposed to being trained only in sales and forced to meet a quota.
Best Woven Wood Shade Sales & Installation
So, for instance, if you were to inquire about the pros and cons of woven wood shades in Huntington Beach to a window blind sales company, they would simply steer you towards whatever merchandise they have in bulk. While our blinds, shutters and shades experts would tell you important details such as:
Woven wood shades are a good choice to make for homeowners concerned with going green. The materials used are natural and the shades recyclable once they are no longer in use. As it becomes more important to make Eco-friendly choices, it makes this option a more logical one.
This type of window treatment is also more durable. So you can expect to get optimal performance and maximum longevity from your new window shades.
Natural wood shades like this are also available in a variety of styles and colors. So, you get to customize your look.
Superior Service for Woven Wood Shades in the Huntington Beach Area
Don't accept less than the best, when it comes to your window treatments in the Huntington Beach area. The Blind Guy is the name that you can count on for the best in quality service and results. Get in touch with us now and get your free in-house consultation scheduled to choose woven wood shades, or something else.
For quality woven wood shades in the Huntington Beach area, please call The Blind Guy at 714-600-4239 or complete our online request form.
Latest Articles
How Your Window Coverings Can Lower Your Cooling Costs


Your Huntington Beach area home would be incomplete without window coverings. They help to make your home look its best while also helping your home to enjoy the privacy you should expect from it. But aesthetics and protection are not the only quality that your window coverings can provide. For instance, another great feature your […]

Read More
Blinds: Are They Right for You? Check Out Their Pros and Cons


A beautiful option for any home, blinds might just be the perfect window-covering option if you find yourself in the market for one. However, despite their beauty, blinds could also prove to be a bad option for you — depending on how you view their drawbacks with regard to their draws. If you are unsure […]

Read More