A Large Selection Woven Shades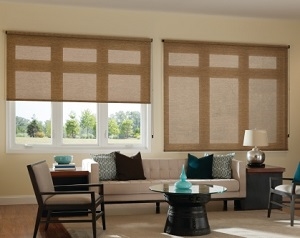 Considering adding woven shades to your household? Then call The Blind Guy in to take care of your free in-home consultation. This will give us the opportunity to help you better understand the options available and how these shades can benefit you.
It is about much more than just selecting the window treatments that you think look best, although that is important, as well. Too many homeowners also make choices, without taking into consideration that your window dressings impact both the interior design aesthetics and the exterior curb appeal. Let our blinds, shutters and shades team work with you in order to show you how we do not just meet the expectations of our clients, our goal is to exceed them.
Best Woven Shade Sales & Installation
If you are not yet familiar with the advantages that consumers enjoy by adding woven shades to their homes or businesses in the Huntington Beach area, consider some of these:
Woven shades offer a soft and natural look that cannot be replicated or surpassed. That makes them ideal for dressing up a causal space or toning down an otherwise sophisticated one.
They are natural which makes them the popular choice for "green" homeowners. If you are taking steps towards being more Eco-friendly, this is a great way to do it.
They come in a variety of color options, although natural hues tend to still be the fave.
Like roller shades, woven shades are perfect fit for anyone who would like to also add a secondary layer of window treatments.
Woven shades can be linked to a motorization system, making them simple to use. Open and close all of your window shades with the push of a single button.
Superior Service for Woven Shades in the Huntington Beach Area
For the best in quality service and results for window shades in the Huntington Beach area, The Blind Guy is the only name that you need to know. We make sure that each client we work with is well informed about each choice they have, so they can feel good about the decision that they make. Woven shades are the perfect choice for any home, for a number of reasons, and we will let you know why.
For quality woven shades in the Huntington Beach area, please call The Blind Guy at 714-600-4239 or complete our online request form.
Latest Articles
How Your Window Coverings Can Lower Your Cooling Costs


Your Huntington Beach area home would be incomplete without window coverings. They help to make your home look its best while also helping your home to enjoy the privacy you should expect from it. But aesthetics and protection are not the only quality that your window coverings can provide. For instance, another great feature your […]

Read More
Blinds: Are They Right for You? Check Out Their Pros and Cons


A beautiful option for any home, blinds might just be the perfect window-covering option if you find yourself in the market for one. However, despite their beauty, blinds could also prove to be a bad option for you — depending on how you view their drawbacks with regard to their draws. If you are unsure […]

Read More