Custom Mini Blinds to Fit All your Windows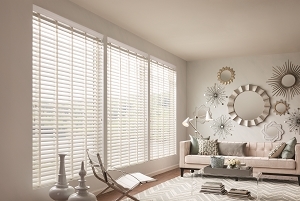 Of course you cannot talk window blinds without mentioning mini blinds in the Huntington Beach area. Here at The Blind Guy, this type of window treatment remains a popular option, when it comes to window treatments for both residential and commercial clients. We take great pride in the work we do, which includes helping to ensure that our clients end up with the perfect choice for their windows.
Mini blinds are ideal in a number of situations, including custom windows and even side lights. They come available in a variety of materials, sizes and colors. What matters most is that you get the right window blinds to work perfectly for your window treatment needs.
Best Mini Blinds Sales & Installation
Part of making the right decision is knowing more about the options that you have available.
Mini blinds are available in different slat sizes. The micro blind is usually ½ inch slat and perfect for smaller window settings. However, they can range all the way up to 2 inches.
The system is the same as with other styles of blinds. Your blinds have a series of slats, a continuous loop running through both the right and left side and a wand to make adjustments. Due to the hanging cord used to close or open the blinds, this may not be the best option for households with children or small pets.
Many homes and businesses are now making the transition to motorization. This enables the user to adjust the blinds with the push of a button. It also eliminates the need for a cord to make manual adjustments, eliminating the threat of injury for children and small animals.
Superior Service for Your Mini Blinds in the Huntington Beach Area
For the best in both quality products and installation, the Huntington Beach window blinds company to trust in is The Blind Guy. We take this field of work seriously and that is clear from the customer approval rating we have earned. So give us a call today to find out more about the options that you have for mini blinds in the Huntington Beach area.
For quality mini blinds in the Huntington Beach area, please call The Blind Guy at 714-600-4239 or complete our online request form.
Latest Articles
How Your Window Coverings Can Lower Your Cooling Costs


Your Huntington Beach area home would be incomplete without window coverings. They help to make your home look its best while also helping your home to enjoy the privacy you should expect from it. But aesthetics and protection are not the only quality that your window coverings can provide. For instance, another great feature your […]

Read More
Blinds: Are They Right for You? Check Out Their Pros and Cons


A beautiful option for any home, blinds might just be the perfect window-covering option if you find yourself in the market for one. However, despite their beauty, blinds could also prove to be a bad option for you — depending on how you view their drawbacks with regard to their draws. If you are unsure […]

Read More