Pleated Shades for All Types of Windows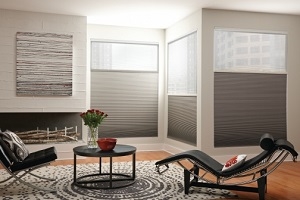 Pleated shades in the Huntington Beach area are easy to recognize because they are, just as the name describes, pleated. When you are starting out with the window treatment selection process, you need to feel certain that you are going to get the best in products, as well as service. And when it comes to service, this should include getting personalized feedback from an industry expert about which type of window treatments would make the best fit.
Local home and business owners here know that the name to trust in is The Blind Guy. We work hard to make certain that you get the advice needed to make good choices, in order to end up with results that you will love, for years to come. The first step is setting up your free in-house consultation in order to start seeing options and making important choices.
Best Pleated Shade Sales & Installation
Choosing your window treatments is a matter of personal taste, plain and simple. However, knowing the benefits of each selection is also part of the decision making process. Here are just a few things you should know about pleated shades:
In recent years, there has been a spike in popularity with pleated shades in the Huntington Beach area. The good news is that you will be investing into a trendy window treatment, however not one that will fall out of fashion soon. In other words, you do not have to worry about the choices you make becoming a passing fad.
These types of window shades are available in a variety of sizes and widths. So, you can use this type of window dressing for a wide assortment of window styles, as well as doors.
Window shades are available in sheer and range all the way up to non-permeable. Simply put, this determines the amount of natural, diffused light that can come through, or not shine through, as well as how much privacy you have.
Superior Service for Pleated Shades in the Huntington Beach Area
The bottom line is that, at The Blind Guy, we genuinely care about ensuring that our customers make appropriate choices, whether they opt for blinds, shutters or shades. To find out more about pleated shades, all you have to do is give us a call. We look forward to working with you and providing you with the quality window treatments that you want, need and should be able to expect.
For quality pleated shades in the Huntington Beach area, please call The Blind Guy at 714-600-4239 or complete our online request form.
Latest Articles
How Your Window Coverings Can Lower Your Cooling Costs


Your Huntington Beach area home would be incomplete without window coverings. They help to make your home look its best while also helping your home to enjoy the privacy you should expect from it. But aesthetics and protection are not the only quality that your window coverings can provide. For instance, another great feature your […]

Read More
Blinds: Are They Right for You? Check Out Their Pros and Cons


A beautiful option for any home, blinds might just be the perfect window-covering option if you find yourself in the market for one. However, despite their beauty, blinds could also prove to be a bad option for you — depending on how you view their drawbacks with regard to their draws. If you are unsure […]

Read More