The Trusted Company for Roller Shades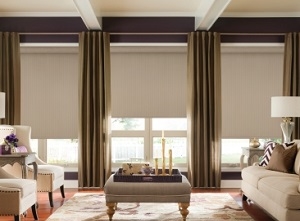 For the best in quality roller shades in the Huntington Beach area, the name to trust in is The Blind Guy. Don't let the name fool you, we do much more than just your basic window blinds. In fact, we have been able to earn our impeccable reputation by offering a wide variety of quality window treatments, including options like roller shades.
It is important that you feel confident about the choices that you make, when it comes to your window treatments. Once the project is complete, your shades should be something that you feel that you can live with, and love, for years to come. The only way to make this possible is to select the perfect crew to work with in order to get superior professional results.
Best Roller Shade Sales & Installation
For anyone weighing the pros and cons of the various window treatment options such as blinds, shutters and shades, a few things that you need to know about roller shades would be:
Few possible choices are as budget-friendly as roller shades. Plus, they are able to help cut down on light and heat index, which can result in spikes in your cooling bills. Save money on your energy costs by installing shades that will help with energy efficiency.
Roller shades are a popular choice for anyone planning on layering window treatments. For instance, using curtains over roller shades gives you double the window dressing. This creates a unique profile and helps with even more energy-efficient benefits.
As far as cleaning goes, roller shades are probably one of the easiest window treatments to keep clean. Simply wipe them down. Plus, this makes it more user-friendly for anyone suffering from allergies, asthma or other respiratory related health issues.
Superior Service for Roller Shades in the Huntington Beach Area
If you are considering implementing roller shades into your home or business, give the pros here at The Blind Guy a call. We take great pride in the work that we do and that is evident from the results we deliver each and every time. We look forward to helping you get the perfect set up for your window treatments in the Huntington Beach area.
For quality roller shades in the Huntington Beach area, please call The Blind Guy at 714-600-4239 or complete our online request form.
Latest Articles
How Your Window Coverings Can Lower Your Cooling Costs


Your Huntington Beach area home would be incomplete without window coverings. They help to make your home look its best while also helping your home to enjoy the privacy you should expect from it. But aesthetics and protection are not the only quality that your window coverings can provide. For instance, another great feature your […]

Read More
Blinds: Are They Right for You? Check Out Their Pros and Cons


A beautiful option for any home, blinds might just be the perfect window-covering option if you find yourself in the market for one. However, despite their beauty, blinds could also prove to be a bad option for you — depending on how you view their drawbacks with regard to their draws. If you are unsure […]

Read More