The Local Source for Plantation Shutters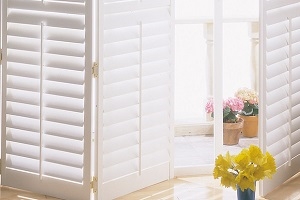 One of the most exciting aspects of selecting window treatments for your home or business, is narrowing down your selection. If you are considering opting for plantation shutters in the Huntington Beach area, you are probably already familiar with the look, style and benefits. What you may not realize yet is how important it is to have the best possible team to work with, for all of your window dressing needs.
Savvy locals know that the local Huntington Beach shutter company to call on is The Blind Guy. We take great pride in the work that we do and that is evident from the results that we are able to get for each of our clients. It is both and honor and a privilege to be able to provide our local clients with the services that they need and the final results that they had hoped for.
Best Plantation Shutter Sales & Installation in Huntington Beach
Shutters, in general, make a fantastic choice for a window dressing. However, the overly dramatic appearance of plantation shutters in the Huntington Beach area often make them the most desirable. Some key advantages include things like:
Shutters provide you with the optimal in light and privacy control. This is because you can adjust both the slats and louvers.
Plantation shutters are ideal for anyone looking for a little extra insulation. This additional insulation means that your home will be more energy-efficient. Enhanced energy efficiency means lower monthly operational costs, as well as a more Eco-friendly household.
Many home and business owners prefer shutters due to the fact that they are better for reducing allergens. Made from a material that is easy to wipe down for cleaning, this means less chance of trapping airborne contaminants that can trigger allergy attacks.
Superior Service for Your Plantation Shutters
The Blind Guy is the only name that you need to know, when it comes to getting the perfect window treatments for your residential or commercial building. We take this line of work seriously and are dedicated to the total satisfaction of every client we work with, from helping you select the perfect shutters to providing top quality shutter installation services. To find out more about plantation shutters for your windows, give us a call today.
For quality plantation shutters in the Huntington Beach area, please call The Blind Guy at 714-600-4239 or complete our online request form.
Latest Articles
How Your Window Coverings Can Lower Your Cooling Costs


Your Huntington Beach area home would be incomplete without window coverings. They help to make your home look its best while also helping your home to enjoy the privacy you should expect from it. But aesthetics and protection are not the only quality that your window coverings can provide. For instance, another great feature your […]

Read More
Blinds: Are They Right for You? Check Out Their Pros and Cons


A beautiful option for any home, blinds might just be the perfect window-covering option if you find yourself in the market for one. However, despite their beauty, blinds could also prove to be a bad option for you — depending on how you view their drawbacks with regard to their draws. If you are unsure […]

Read More