Making The Move To Motorization – Is It Right For You?
---
---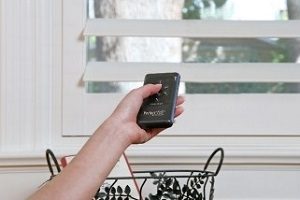 More and more Huntington Beach homeowners are making the wise choice to implement motorization for their window treatments. Your home is your biggest and most important investment, so it is vital to be aware of the options that you have for improving it. One big way to do so is by making the transition from standard window coverings to motorized blinds, shutters, and shades.
The average household has begun making the shift towards relying on modern technology, such as SmartHomes linked to their SmartPhones. Aside from just being able to turn on lights from a remote location, there are other modern advancements that make a big difference, like motorization for your shades, blinds, and draperies. Educate yourself on this topic so you can be a wise consumer and a savvy homeowner.
Why Window Treatment Motorization is all the Rage in Huntington Beach
If you are not already aware of what makes motorized window treatments such a great choice, there are a few things you should certainly know about.
Of course, above all else, opting for motorization is about convenience. Having the capability to operate your window coverings with the push of a button will honestly improve your quality of life. You can even schedule changes so that you do not have to be bothered with even remembering to push that button.
Many homeowners appreciate the fact that this offers a level of security. Not only can you make adjustments that protect our privacy, but you can also give the illusion of being home. Use motorization to deter potential criminals from breaking into your home by making it appear as though someone is present to adjust the blinds.
Let's not forget the importance of energy efficiency. Making better use of your window treatments makes your home more energy-efficient. The end result is lower operational costs and a more Eco-friendly household.
Call The Blind Guy for Motorized Window Treatments
If you are ready to find out more or get started, give the blinds, shutters and shades pros at The Blind Guy a call. Since 2010, we have been the local leading service provider for window treatments for both residential and commercial clients. This includes offering the best in motorization.
If you are interested in motorization for window treatments in Huntington Beach, CA please call The Blind Guy at 714-600-4239 or complete our online request form.