Learning About the Benefits of Window Shutters for Huntington Beach Homes
---
---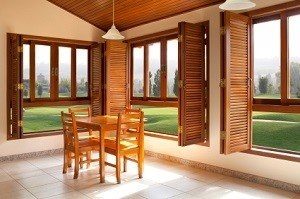 It is probably no surprise to you to find out that window shutters are among the most highly sought-after options for window treatments. In fact, they are a classic staple when it comes to choices you can make for protecting and beautifying your windows. However, most people think they are choosing simply on looks alone.
Savvy Huntington Beach homeowners, however, are aware that there is much more to take into consideration than just appearances. The right window treatments should actually be able to work for you. So, before making any decisions about your window treatments, familiarize yourself with the options that you have and the benefits of each. Here are some of the benefits of window shutters in Huntington Beach homes.
Advantages of Selecting Shutters in Huntington Beach, CA
Shutters were once solely installed on the exterior of the home, but are now more commonly located inside the household. Either way, some of the benefits that you can expect from opting for window shutters include:
Privacy – There is no other style of window covering that can also as much privacy protection as shutters. When completely closed there is little chance of anyone outside your home being able to see inside.
Light Control – Blinds do afford you the ability to adjust the slats for more or less light, however, shutters offer louver adjustments that even control the angle. Simply put, no other window dressing offers as much flexibility in both light control and privacy, due to the design.
Additional Insulation – Help with interior climate control by adding shutters to your home. This will add another layer of insulation which makes your home more energy-efficient. Improve energy efficiency means lower utility costs and more environmentally responsible home.
Finding the Right Huntington Beach Shutters Team
The best step you can take, in order to have success with your window treatments, is to hire the right Huntington Beach shutter company. Ask around and local home and business owners will tell you that The Blind Guy is the only name that you need to know, in order to get the best possible results. Call now in order to set up a time for your initial free in-home consultation.
If you are looking shutters in Huntington Beach, CA then please call The Blind Guy at 714-600-4239 or complete our online request form.